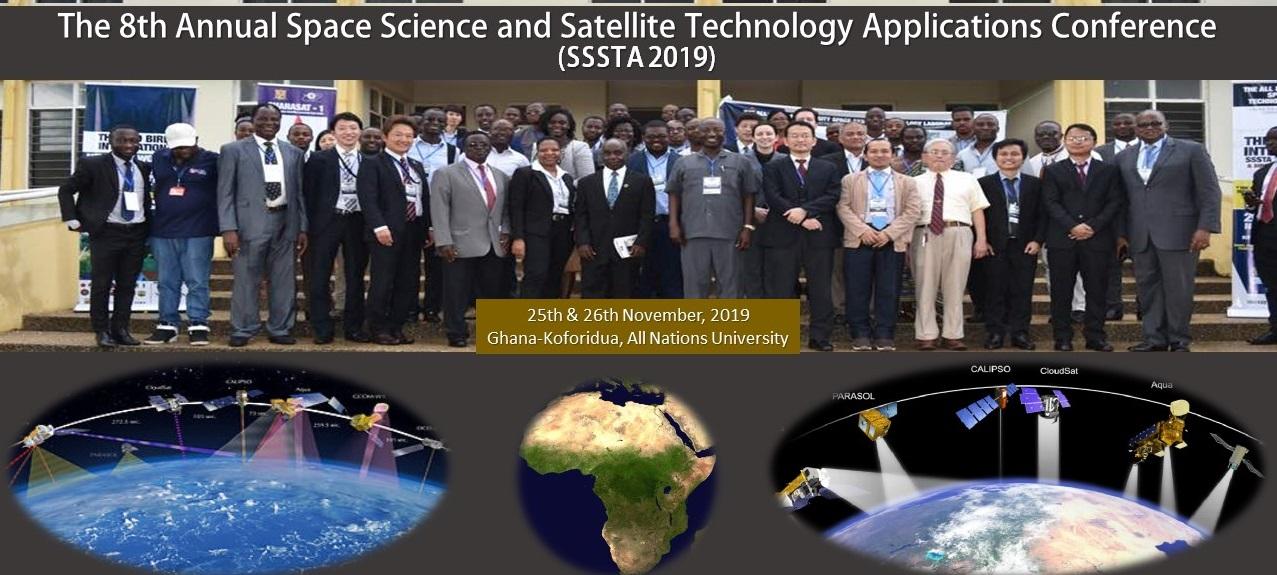 CALL FOR ABSTRACTS – THE 8TH ANNUAL SPACE SCIENCE AND SATELLITE TECHNOLOGY APPLICATIONS CONFERENCE (SSSTA 2019)
231
231 people viewed this event.
The SSSTA conference since its inception remains one of the conferences in the country actively championing activities on Space Science & Satellite Technology. It was initiated by the All Nations University as a university conference in 2012 focusing on innovative technological ways to national development in the area of Space Science & Satellite Technology. These activities therefore led to the launch of Ghana's first satellite "GHANASAT-1" developed by Ghanaian engineers from the All Nations University, making Ghana a spacefaring nation.The conference has grown to becoming a National/International Conference to explore and sustain the country's Space Technology Activities to benefit humanity and for economic and social development.
The Conference seeks to create a platform to bring together space science & technology experts, professionals and researchers from around the world to share their experiences and expertise to advancing Ghana and Africa's space program.
It more importantly focusses on bringing together government, the private sector, industries, great minds, and stakeholders within the country and worldwide whose work and activities directly or indirectly benefit from Space Technology towards national development to achieve the UN Sustainable Development Goals 2030 and Africa Union Agenda 2063.
Such include the use of satellite data (Satellite Applications) by the: Food & Agricultural Sector for food security and farm land/crop mapping, Health Sector for managing disease control &
medical products services, Disaster Monitoring Agency for early disaster motoring and detection, Meteorological Agency for enhancement of weather forecast, Lands and Natural Resource sector for
town/country planning and natural resource mapping, Civil Aviation Authority for flight safety & monitoring,Maritime Authority for coastal & vessel tracking & monitoring, Astronomical
Society, Universities, and legal/ governing bodies such as the Communication Authority, Space Science & Technology Institutes etc.

Objectives:
1. To bring together stakeholders in the space science and technology field withinthe continent.
2. To provide a platform for discussion, sharing of expertise and research workamong local and international space technology enthusiasts and professionals.
3. To discuss matters and ways to advancing Africa's Space activities to achieve a sustainable space program for national development.
4. To provide a platform for collaboration and partnerships (local and international institutions, universities and government).
5. To discuss matters about Space Policy/Legal Framework advancement.
6. To promote Capacity Building in Satellite Development and Infrastructure Advancement.
7. To discuss matters about satellite Frequency Coordination and Licensing.
8.To promote Capacity Building in Satellite Data Applications and Analysis.
9.To provide a platform to explore potential avenues to leverage the use of satellite data for development at low cost.
10. To form a platform to explore and discuss ways of leveraging satellite Technology to advancing the Agricultural & Food Sector, Health Sector, Lands &Natural Resource Sector, Disaster Management Organization, Civil Aviation Authority/Airport Industries, Maritime Agency, Weather Forecast Stations etc.
11. To promote technological ways to monitor the Environment and Air pollution.
12. To promote Young Students Space Science and Technology/STEMI outreach programs.
13. To explore space technology to achieve the United Nations Sustainable Development Goals 2030 and African Union Agenda 2063.
Expectations
This conference is expected to bring all stakeholders in the space industries under a common platform to discuss matters relating to advancing space science and technology for socio-economic development.
Sessions:

Space Technology Applications & Technology Benefit for socio-economic developmentand SDGs.
Building Space Infrastructure for emerging countries.
Space Policy & Legal Framework of emerging countries.
Collaborations & Space Diplomacy for emerging countries.
Youth Capacity Building, Technology and Skill Development.
Panel/Forum/Plenary:
African Space Agencies and their role for socio economic development.
The role of GMES & Africa in promoting Space Science and Technology to achieve
socio economic development.
Creating a common platform for satellite data usage to avoid data duplication in the
public private sector locally.
Workshops:
Satellite Technology and Application Training for the youth.
Young Women in Space Workshop.
Participants:
African Union, African Universities (Burkina Faso, Gabon, Togo, Ivory Coast, Bostwana, Lesotho, Cape Verde, Gambia, Nambia, Senegal, Seirra Leone)
International Space Institutions (Aerial & Maritime, GOMSpace, Space Advisory Company, Center for Nano Satellite Testing(CeNT), Local Institutions (Ministry of Science, Technology &
Innovations Ghana, Environment Protection Agency, UNDP, Ghana Space Science Technology Institute, Ghana Meteorological Agency, Council for Scientific and
Industrial Research, Ghana Statistical Service, Remote Sensing & Geographic Info Systems, NADMO, Lands Commission ) and etc.
Date : November 25th & 26th November, 2019 .
Venue: All Nations University , Koforidua, Ghana.
KINDLY REGISTER BEFORE 12TH NOVEMBER, 2019. ACCEPTED ABSTRACTS WITH FULL PAPER WILL BE PUBLISHED IN THE SPECIAL EDITION OF THE ALL NATIONS UNIVERSITY JOURNAL OF APPLIED THOUGHT (ANUJAT).

CALL FOR SPONSORS
SSSTA 2019 provides a unique opportunity for companies from different organizations and companies to introduce and promote their products and services to a network of SPACE Institutions, Agencies, Users and Universities. Sponsoring this event gives you the opportunity to widden your reach of audience among emerging Space Nations.

| | |
| --- | --- |
| SPONSORSHIP PACKAGES | FEES |
| PremierCompany-profile projected in the exhibition hall;Opportunity to introduce the company from the conference podiumTabletop exhibit space Back cover advertisement in conference program Full-page advertisement in conference programCompany Flyer/Souvenirs for conference participants Company profile, logo, and contact information in conference programLogo on event promotions, event website, bannerAttendee email listCompany/organization branding on all event lanyardsCompany Roll-up Stand at the Conference Hall | USD 2500TRANSPORTATION FOR DELEGATES |
| GoldCompany-profile projected in the exhibition hallOpportunity to introduce the company from the conference podiumTabletop exhibit spaceFull-page advertisement in conference programCompany Flyer/Souvenirs for conference participantsCompany profile, logo, and contact information in conference programLogo on event promotions, event website, banner | USD 2000ACCOMODATION FOR DELEGATES |
| SilverOpportunity to introduce the company from the conference podiumTabletop exhibit spaceAdvertisement in conference programCompany Flyer/Souvenirs for conference participantsCompany profile, logo, and contact information in conference programLogo on event promotions, website, banner. | USD 1500CONFERENCE LUNCH |
| BronzeAdvertisement in conference programCompany Flyer/Souvenirs for conference participantsLogo on event promotions, website, banner Company roll-up at the coffee break venue | USD 1000COFFEE BREAK |
| MediaOpportunity to introduce the company from the conference podiumTabletop exhibit spaceAdvertisement in conference programCompany Flyer/Souvenirs for conference participantsCompany profile, logo, and contact information in conference programLogo on event promotions, website, banner | USD 1000 |
| Space Tech Workshop for YouthOpportunity to introduce the company from the conference podiumTabletop exhibit spaceAdvertisement in conference program Company Flyer/Souvenirs for conference participantsCompany profile, logo, and contact information in conference programLogo on event promotions, website, bannerCompany roll-up at the training grounds | USD 500 |
| Exhibition PackageExhibition StandRecognition in conference program and websiteAttendee email listConference Lunch | USD 180 |
Kindly Contact us @ +233 276 046 829/+233 541 827 770/+233 247 425 436 or email:

[email protected]
PARTNER MEDIA PARTNER