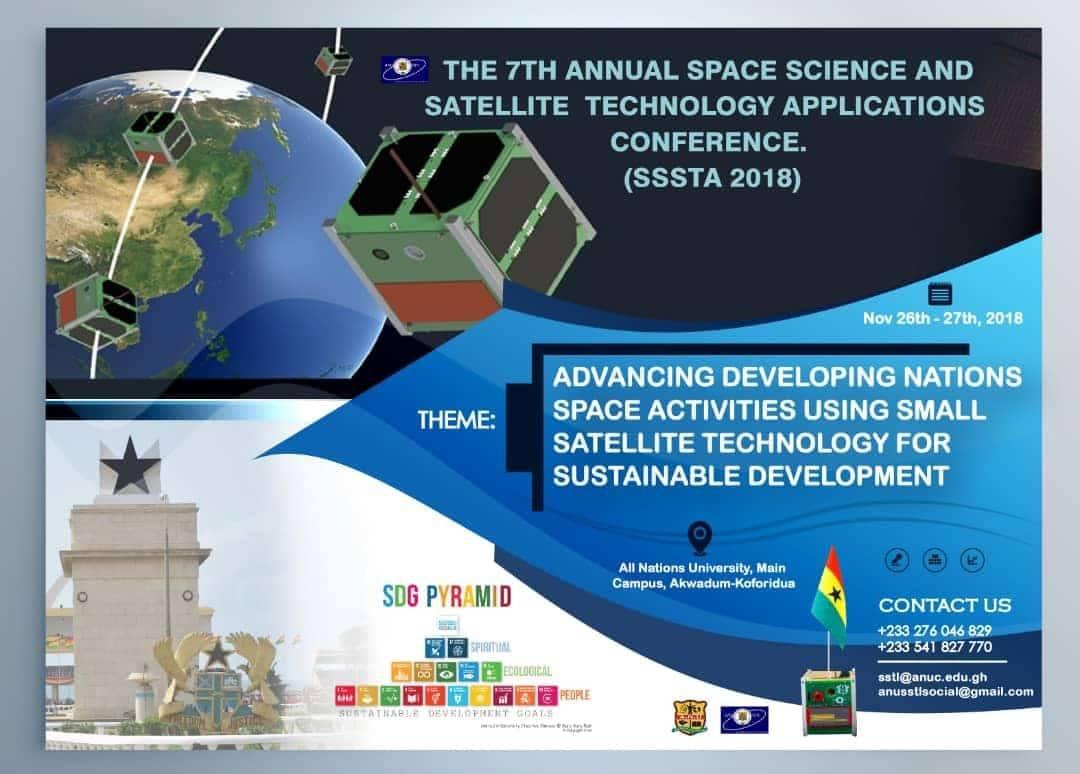 THE 7TH ANNUAL SPACE SCIENCE AND SATELLITE TECHNOLOGY APPLICATIONS CONFERENCE (SSSTA 2018)
169 people viewed this event.
The Space Science and Satellite Technology Applications Workshop (SSSTA) is an annual international conference & workshop that was established in 2012 by the All Nations University-Space Systems Technology Laboratory (ANU-SSTL) as part of fulling its mandate in building human capacity and advancing the field of Space Science and Satellite Technology in Ghana and Africa. The event is projected towards achieving a sustainable space program for the benefit of humanity. Since the inception of the SSSTA, it has attracted many international & local professionals and experts in this field of discipline, government personnel, students and space science enthusiasts to the University to participate and present at the conference. The conference creates the platform to deliberate and discuss innovative technology and the application of space science to enrich and solve problems in society. It also helps educate students and the society about the benefit of space science. The ultimate goal is to promote the United Nations Sustainable Development Goals for a sustainable space program in developing nations.
7TH SPACE SCIENCE AND SATELLITE TECHNOLOGY APPLICATIONS CONFERENCE
Advancing Developing Nations Space Activities Using Small Satellite Technology for Sustainable Development
Monday, November 19, 2018 MC: Mrs. Sharon Sappor-Quaye / Mr. Alfred Darkwah
Time
Topic
Speaker
8:00 – 9:00
Arrival of Guests / Registration
9:00 – 9:05
Opening Prayer
Rev. Adriana Ion
9:05 – 9:15
Welcome Address
Dr. Samuel DonkorFounder & President- All Nations University
9:15 – 9:30
Overview of ANU-SSTL Activities _PPT
Mr. Joseph QuansahTeam Member: All Nations University Space Systems Technology Laboratory
9:30 – 9:45
Keynote Address: The Role of Weather & Climate Forecasting to National Development
Prof. Dickson AdomakoDirector: Ghana Space Science and Technology Institute
9:45 – 10:05
Using Technology to Achieve the Sustainable Development Goals in the area of Weather & Climate _PPT
Ms. Sylvia Sefakor SenuUnited Nations Development Programme (Ghana)
10:05 – 10:25
The Use of Satellite Technology in Enhancing Meteorology _PPT
Mr. Samuel Owusu AnsahGhana Meteorological Agency
10:25 – 10:45
The Impact of Weather and Climate/Satellite Application Activities in Disaster Management _PPT
Mr. Yao Edoh KiatcheyNational Disaster Management Organisation
10:45 – 11:05
The Impact of Weather/ Climate and Satellite Applications Activities on Agriculture _PPT
Mr. Henry Crentsil JuniorEastern Regional Director: Ministry of Food and Agriculture, Koforidua
11:05 – 11:25
Climate and Weather Monitoring – Local Actions
Dr. Amos T. Kabo-bahHead of Energy & Environmental Engineering Dept. University of Energy and Natural Resources
11:25 – 11:55
Coffee Break
11:55 – 12:15
The Impact of Weather and Satellite Technology in the Aviation Industry _PPT
Ing. Isaac Kweku BoakyeSenior Air Traffic Safety Engineer, Ghana Civil Aviation Authority
12:15 – 12:45
Ghana's SECOND satellite(GHANASAT-2) _PPT
Dr. Richard DamoahDirector: All Nations University Space Systems Technology Laboratory
12:45 – 13:05
Satellite technology in Generating of weather and climate Information _PPT
Mr. Kofi AsareManager of Remote Sensing Center, Ghana Space Science and Technology Institute
13:05 – 13:25
Measurement Of Atmospheric Composition In Limb and Occultation Satellite Observation for Climate Monitoring _PPT _Abstract
Prof. Leonard AmekudziMeteorology and Climate Science Programme,Department of Physics, KNUST
13:25 – 13:45
Characterization of Low-level Clouds (LLCs) in Southern West Africa (SWA) and Its Synergy with Surface Stability and Energy Balance: Assessments from the DACCIWA Summer 2016 Field Campaign in Kumasi, Ghana. _PPT _Abstract
Mr. Jeffrey N. A. AryeeMeteorology and Climate Science Programme,Department of Physics, KNUST
13:45 – 14:15
Poster Session/BreakDr. Mark Amo-Boateng[Head, Earth Observation Research and Innovation Centre, University of Energy and Natural Resources] _PPT
14:15 – 14:35
SATELLITE FREQUENCY COORDINATION PROCRDURE _PPT
Mr. Timothy AshongDeputy Manager EngineeringNational Communication Authority
14:35 – 14:40
Announcement of the Next SSSTA Conference Date and Theme
MC
14:40 – 14:50
Closing Remarks / Prayer,Photo Session 1
MC / Pst. Teddy Amoh Mensah,
14:50 – 15:00
Media Interview
15:00 – 17:00
Lunch
Tuesday, November 20, 2018 MC: Mrs. Sharon Sappor-Quaye / Mr. Alfred Darkwah
Time
Topic/ Activity
Speaker
08:00 – 09:00
Arrival of Guests / Registration
09:00 – 09:05
Opening Prayer
Pst. Teddy Amoh Mensah
09:05 – 09:10
Welcome Address
MC
09:10 – 09:20
The Use of Satellite Technology in Monitoring the Environment _PPT
Mr. Ebenezer WorlanyoEPA (Environmental Quality) Laboratory Technologist
09:20 – 09:40
THE USE OF SATELLITE IMAGERY IN GHANA USING AFRICA REGIONAL DATA CUBE- USE CASE IN WATER DETECTION AND URBANIZATION _PPT_Abstract
Mr. Victor Boateng OwusuStatistician at Ghana Statistical Service
09:40 – 10:00
NSAS: NIGCOMSAT's Contribution to Radio-Navigation Services _PPT_Abstract
Dr. Muhammad AlkaliDeputy Head, NSAS/GNSS Projects Engineering Services Directorate, Nigerian Communications Satellite
10:00 – 10:20
Climate Change Over West Africa under 1.5 and 2oC global warming _PPT
Dr. Nana Ama Kluste(University of Ghana, Department of Physics )
10:20 – 10:40
Quantum Computing: Assessing its Practicability in Space _PPT _Abstract
Mr. Muhammad ZubairuSenior Manager (Satellite Control), Nigerian Communication Satellite
10:40 – 11:00
Risk Assessment of Small Satellite Projects _PPT_Abstract
Mr. Babadoko MohammedSenior Manager, Spectrum ManagementNigerian Communications Satellite
11:00 – 11:30
Coffee Break
11:30 – 12:30
Radiosonde, AQI Tutorial & Assemble
Dr. Richard DamoahDirector: All Nations Space Systems Technology Laboratory
12:30 – 14:30
Field Event–The Launch of a Radiosonde,
All Nations University –Space Systems Technology Laboratory (ANU-SSTL)
14:30 – 16:00
Lunch
16:00 – 16:20
Radiosonde Data Retrieval & Summary
Dr. Richard DamoahDirector: All Nations University Space Systems Technology Laboratory
16:20 – 16:30
Closing Remarks / Prayer,Photo Session 2
MC / Mr. Ernest Matey,
Media Interview